Race Information
RACE INFORMATION
We Race Because…
One

in

eight

women in the U.S. will be diagnosed with breast cancer in her lifetime.
Because

every minute

, somewhere in the world, someone dies from breast cancer.
And because, breast cancer knows

no boundaries

- be it age, gender, socio-economic status or geographic location.
We continue to Race because at the current rate,

13 million

breast cancer deaths around the world will occur in the next 25 years.
But, when you participate and fundraise for the Race, we fight these statistics together. In 1980, the 5-year relative survival rate for women diagnosed with early stage breast cancer (cancer confined to the breast) was about 74 percent. Today, that number is 99 percent! Komen has played a critical role in every major advance in the fight against breast cancer - transforming how the world talks about and treats this disease and helping to turn millions of breast cancer patients into breast cancer survivors. This progress was made with your continued support and together we can reach our vision of a world without breast cancer.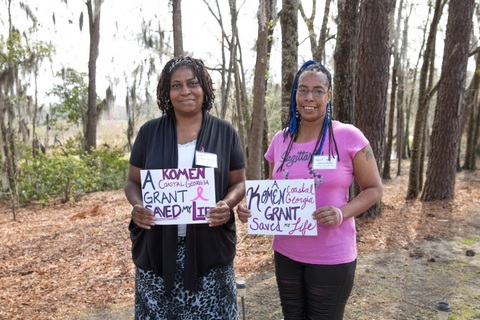 The Need:
7 of the 9 counties in our service area are medically underserved
Residents in the Affiliate service area experience higher rates of breast cancer late stage diagnosis than the state of Georgia and the US
Financial barriers remain one of the largest reasons women do not seek mammograms; fears and misperceptions is the second largest reason.
1 in 8 women will get breast cancer in her lifetime
If breast cancer is detected early, while confined to the breast, the 5-year survival rate is 98%
The Work Being Done:
75% of locally raised funds support local programs; 25% of funds raised are invested in breast cancer research (0% supports HQ overhead costs)
Since Komen Coastal Georgia's inception in 2006, we have invested over $2 million in local community programs and over $700,000 into cutting-edge breast cancer research
In the last 5 years, Komen Coastal Georgia has funded:

7,053 screening services
1,375 diagnostic services
Resulting in the detection of 126 treatable Breast Cancers!
Collaborated with community partners to develop and fund targeted outreach and navigation programs to reach underserved populations
Invested in research that has reduced the death rate for breast cancer by 30 percent in the last 25 years.
Raised Here: Komen Coastal Georgia is funded entirely by the generous support of local businesses and individuals