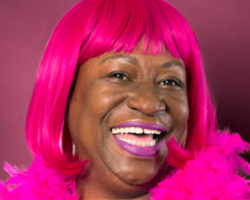 Name: Tanya Milton
Company: The Savannah Tribune
Big Wig Bio: Tanya Milton, the Vice President and Advertising Director of The Savannah Tribune, began her newspaper career as a high school student selling advertising for the school newspaper, The "Oracle" at Windsor Forest High School. She attended Marsh-Draughon Business College in Atlanta, Ga.
Tanya has received numerous awards while serving her community. She volunteers with many organizations including, Boy Scouts of America, the Savannah Area Chamber of Commerce, the United Way, Leukemia/Lymphoma Society, American Diabetes Association, Homebuilders Association of Greater Savannah and Coastal Center for Developmental Services. She is also the 2010 Mirror Ball Winner of Dancing With Savannah Stars for CASA and in 2011 she completed the Rock n Roll half marathon. She currently serves on the Metropolitan Planning Commission. She is a 2019 graduate of Leadership Southeast Georgia.
Tanya is married to Walter Thomas and she has two daughters and two grandchildren.
Fundraising Goal: $12,000.00
Why are you participating? I have family members and loved ones who are cancer survivors. But I lost my mother, father and my only 2 brothers to this disease. So I am up for the fight against any cancer!
View More